Chicks Betty Crocker "Betty" is by Smart Chic Olena out of a Dry Doc mare. We bought her as a four year old for Susan to learn to rein on an experience reiner. We first saw Betty at the 1998 NRHA Futurity in Oklahoma City OK. She was being shown by Bryant Pace.. I remember when the announcer said her name I thought and vocalized, what a dumb name for a horse. I knew the second we went looking for a reining mare at the Babcock Ranch and Jim Babcock told his barn manager to go get "Betty", exactly who we were going to be looking at. Needless to say we called Jim from the airplane and bought her before we left Texas. We had a great deal of success on Betty in reining, cow horse and cutting. Her and her get are really fun to ride. She's been breed once to Remenic and six(6) times to Diggers Rest. (by Peppy San Badger).
Hickorys Little Telesis "Kory" is our most recent addition. She was born on our ranch. Sired by Lenas Telesis out of our late Highbrow Hickory mare Little Dun Hickory.
Table Rock Quarter Horses is located in Black Forest Colorado near Table Rock, 11 miles east of Monument Colorado, exit 161 from I-25.. Please give us a call and feel free to come see our horses, art work or web site designs.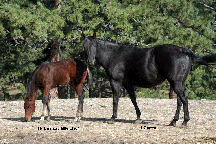 Lil Cuatra "Kat"
1988 Black Mare (no white)
By the legendary Peppy San Badger (Little Peppy)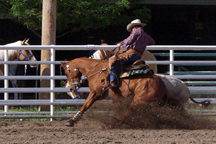 Chicks Betty Crocker "Betty"
1995 Sorrel Mare
By Smart Chic Olena out of Clemgils Crocker by Dry Doc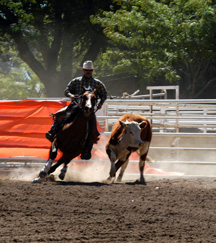 Hickorys Little Telesis "Kory"
2000 Bay Mare
By Lenas Telesis out of our late Highbrow Hickory mare